Can I sell my timeshare without upfront fees?
Several years back I made one of the biggest financial mistakes of my life, I bought a timeshare.  I'm sure if you're reading this article you may be facing a similar situation.
However you may have also figured out by now that selling your timeshare is riddled with all kinds of landmines from paying high upfront fees to dealing with the typical ripoff timeshare resale company.
I know this industry first hand because I've been taken by two of these companies which ended up costing me $1100 in upfront fees.  You may have dealt with a similar situation and this may have left you asking how can I sell my timeshare without upfront fees? 
In this article I'm going to share 3 ways you can go about selling your timeshare.  One is a method I used to sell my timeshare, the second is a fairly new option I've recently come across, and the third is not exactly a way to sell your timeshare but a way to recoup some of the cost,  but before I share these  options I want to debunk a myth that will help you out in this whole process.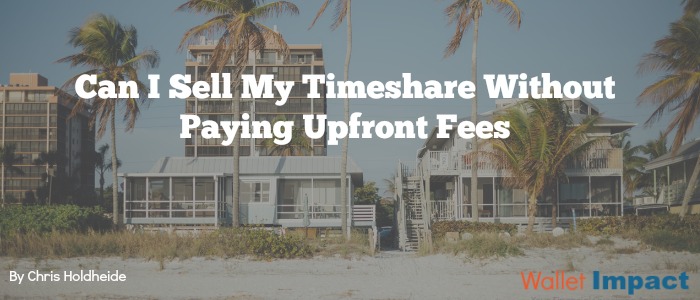 The Biggest Timeshare Myth
When it comes to selling your timeshare the biggest myth going around is that you can sell it for the same amount of money or more that you bought it for and this is completely untrue.
When I was trying to sell my timeshare I had several people tell me that I could get just as much if not more from selling my timeshare.   The first time I heard this was when I was buying my timeshare.
While buying my timeshare the sales rep said that I could easily get back out what I paid for my timeshare.  The problem with this is that when you buy a timeshare you are not buying a piece of land or anything physical for that matter but rather a period of time, a week to be exact.
The second time I heard this a timeshare resale sales rep claimed that people in other countries besides the US would pay far more for my timeshare.  This is completely false.  The truth is you won't get back what you paid for your timeshare even if they live in France or Australia.
In my situation I paid $4500 for my timeshare unit and in the end I only got $400 back when I sold it.  I considered myself lucky at the time to just be rid of the thing and not have to pay one more maintenance fee.
Related Article: Not sure why timeshares are bad then read this article.  It goes into more depth on the topic.
So if you keep this advice in mind while you're trying to sell your timeshare the less likely you'll get taken by all the ripoff deals out there.  Now that you know what you're up against when it comes to selling your timeshare I'm going to share three option you can try to finally get rid of your timeshare for good.
#1 The Buyback Option
The first option and the option I used to sell my timeshare was to call my resort and ask them if they could buy back my timeshare.  After getting ripped off by two timeshare resale companies and refusing to pay my maintenance fee I ask my resort if they could by it back from me.
Now before you start thinking if this might be the option for you you'll want to know that every resort may not offer this and if they do offer this they aren't going to pay you anything close to what they sold it to you for.  In my case I only got around ten cents on the dollar back on what I paid.
The upside to this is that if you're looking for a way to just get out from under your timeshare this is a great way to do it even if you don't get anything back in return for it.  Not having to pay a huge annual maintenance fee will be well worth it in the end.
Another thing to think about is whether you have a loan on your timeshare because if you do you may not be able to take this option until you have it completely paid in full. This also holds true with your maintenance fees as well.  So if you feel this is an option for you here is some basic steps you can follow.
Step 1: Contact Your Resort
The first step you need to do is to contact your resort.  You can do this in a few way from just calling them to sending them an email.  In my case my resort was located in Aruba so I just sent them an email to make things easy.
In the email just let them know that you are interested in selling your timeshare and you want to know if they have a buyback option that is available.  Keep the email simple and sweet.  Don't go into any long drawn out email and just let them know what you are looking to do.
Step 2: Review the Offer
Once the timeshare sales rep gets back with you he will let you know whether this option is available or not.  If their is they may tell you that they don't buyback timeshare units but that they have a third party company that does this.
A lot of times this is how timeshares will buy back the unit through a third party company and this is perfectly fine.  One caveat to this is that the resort may require you to pay your current maintenance fee in order to do this.  This was the requirement in my case  but it was well worth it to get rid of it.
Step 3: Sign the Agreement
Once you've both come to an agreement they will send you letter containing the agreement.  This will make the agreement binding.  At this point all you should have to do is sign the agreement and send it back.
Side Note:  You should not be required to pay a big upfront fee other than the maintenance fee if it happens to be due.
Step 4: Get Paid
Finally once you've signed and sent the agreement back it will take anywhere from a weeks to a month to get your check.  This all depends on the resort and how fast they get things approved.
So their you have it,  this is first method to selling your timeshare with no upfront fees.
#2 Sell Your Timeshare on Vacatia

Side Note:  First off I want to be upfront and say that I've never used this service before but it come highly recommended by Clark Howard.  You can read more on what he says here.
I recently came across this option when Clark Howard mentioned it on is show and I've found this to be a possible option when it comes to getting rid of your timeshare and paying no upfront frees.  Instead Vacatia only charges you a success fee when you sell your unit.
This is just unheard of when it comes to timeshare resale!
In order to sell your timeshare with Vacatia you need to follow their 5 step process.  Below is a list of the 5 steps to take to get started.

Step 1: Sign Up For Free
You can sign up by going here.
Side Note:  I am in no affiliated with Vacatia.
Step 2: List Your Timeshare For Sale
Once you've signed up with Vacatia go ahead and list your timeshare for sale.  You can sell anything from your fixed or floating week to your timeshare points here.
The best part is it doesn't cost anything to list your timeshare with them unlike resale companies which will require you to pay a huge upfront fee before they will even list your unit.  One thing I'm not quite sure of when it comes to Vacatia is how to price your timeshare with them.
My guess is you won't get what you paid for it, however if you are someone who does get a decent return on selling your timeshare through this service I would like to hear your story in the comments below and how things worked out for you.
Side Note:  If you want to list your timeshare on Vacatia and have the best chance of selling it, it's best that you are current will all maintenance fees.
Step 3: Guarantee the Accuracy of Your Listing
Once you've listed your unit the next step is to verify that you own the resort unit to help avoid fraud.  Doing this will give you the Vacatia Guarantee which may help you sell your listing faster.  Below is a picture of how this will look in your listing on Vacatia.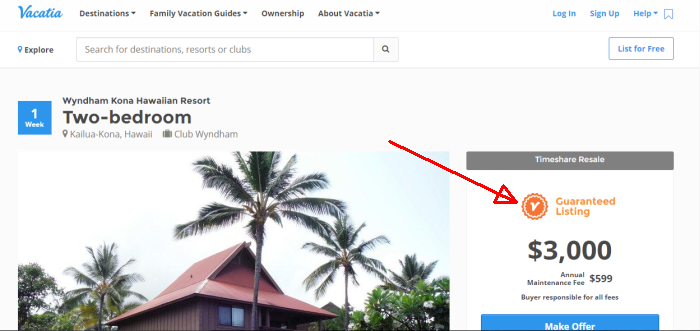 Step 4: Talk to Interested Buyers
One thing I find very unique about Vacatia is that they allow perspective buyers to contact you about your property through their own internal messaging system.  I've never seen a company who sells timeshares do it quite like this.
I can remember signing up with resale companies years ago when I listed with them and I would call them every once in a while to see if anyone was looking at my unit and typically they just gave me the run around.
With Vacatia you are in control of talking to the buyers and this is gives you a lot more leverage over the situation.
Step 5: Complete Your Timeshare Sale
Once you and your buyer have agreed on a price the last step is to complete the sale.  To do this a purchasing coordinator will get in touch with you tell you exactly what you need to do step by step.  This will include signing a legally binding purchase agreement and funds will be put in an escrow account until everything is complete.
Once the sale has been completed you as the seller will be required to pay a success fee.  Below is a list of the fees.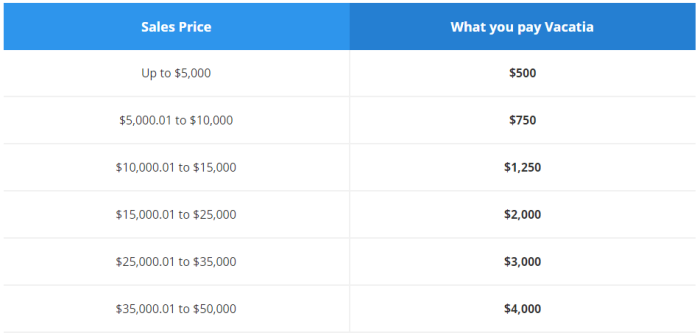 Side Note: If you happen to sell your timeshare with Vacatia I'd love to hear your story in the comments below.
#3 Rent Your Timeshare on Vacatia
The final option to consider if you can't sell your timeshare right now is to rent it on Vacatia.  If you have an available unit to use up and you don't have the time use them this is a great way to make up some of the money while your trying to get it sold.
The problem with this years ago was much the same with selling your timeshare.  You had to pay  upfront fees to get the unit rented and in most cases this never guaranteed anything.  On top of that the fraud and scammers out there are everywhere and it can be hard to decide who to trust.
So if this is your situation then this may be an option for you as well.  Below I've laid out a list of steps to help you get started.  You can also learn more by going here.
Step 1: Fill Out the Application
The first step in this process is to fill out the application to rent your unit.  They may also ask you to see a copy of your deed or recent maintenance fee to make sure you are the owner of the unit and cut down on fraud.  You can do that by going here.
You can rent your timeshare unit, condominium at a professionally manage resort, or points.
Step 2: Book Your Unit
Once your unit is listed, Vacatia will take care of everything when it comes to finding people to rent your unit.  Typically people will rent your unit right online where they will be able to view photos of your unit and all the amenities.
Step 3: Get Paid
Finally, once they book your unit it's time to get paid.  Vacatia will charge you success fee but this will not be nearly as big as the fee if you were to sell your resort.
On top of that you won't get paid for your rental until 24 hours after the guest check in.  This is to avoid any charge backs just in case the guest pull out of their agreement.
Can I Sell My Timeshare Without Upfront Fees
If you're asking Can I Sell My Timeshare Without Upfront Fees you definitely have a few choices.  However I suggest you take the time as I have to really research all of these options before you start.
With an industry full of ripoff deals and scammers you need to consider every option.  I was ripped off by two resale companies costing me over $1100 and my goal is for this not to happen to you too.
So what are your thoughts.  Have you considered any of the options I've shared with you?  Feel free to share your story and how you were able to sell your timeshare and not pay the upfront fees in the comments below.
Cheers!