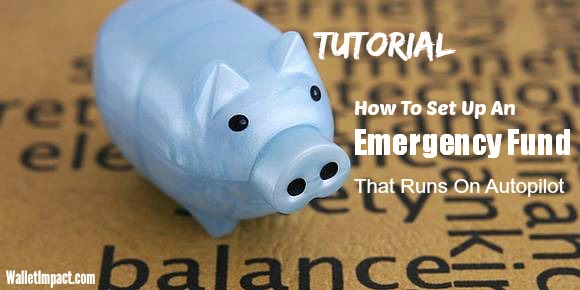 Having an emergency fund is probably one of the most critical pieces when it comes to your financial well being.  Having even just a $1000 set aside for emergency expenses can help you sleep better at night, and avoid living that paycheck to paycheck lifestyle.
I know firsthand what this is like because I lived this way for more years than I care to count, and to be completely honest I still deal with this situation of saving money for my emergency fund from time to time but after some research I found a way to make things a whole lot similar.
The solution I have found and I am going to start using from this day forward is the 360 savings program by Capital One.  Now I'm not going to go into exactly how I chose this program in this article because it's more than I want to get into here, but just know that this is the one that I am going with.
So in this in depth tutorial I'm going to show you how to set up an emergency fund up so you can basically set it and forget it, and on top of that I'm going to include pictures to give the behind the scenes look of exactly how this product works.
Now if you would like to get started and follow along with me click this link  to set up your 360 Savings from Capital One 360.
Setting Up An Emergency Fund On Autopilot
Step 1: Get Started. The first page you come to will look something like the one you see below.  Just click the continue button to get started.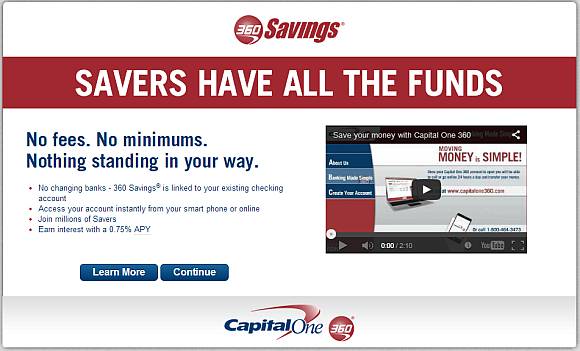 Step 2: Select New Customer.  Next you will see a screen that shows you a few different options when it comes to opening an account.  Since you are a new customer just click I Am New To Capital One 360, and then click continue to move on to the next page.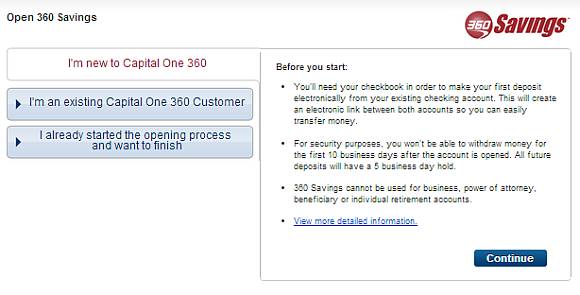 Step 3: Select Account Type. On the next page you need to choose the type of account you want to open.  In most cases you might just select Single, which would put the account in your name, but if you would like your spouse to be included on that account you can select Joint With New Customer.  Then from here click continue to go to the next page.

Step 4: Sign Up Form.  On the next page you will see a sign up form where you will need fill out some basic information from your name to your social security number.  Complete the form and click continue.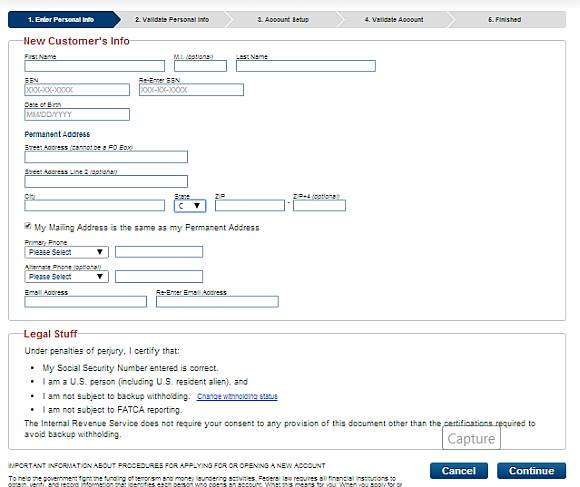 Step 5: Enter Your Security Code.  From here the next step is to enter in a six to ten digit security code and validate it.  From here you need set up a security question and type in your answer. Also make sure to write your security code done for future reference.  Then click continue to go to the next page.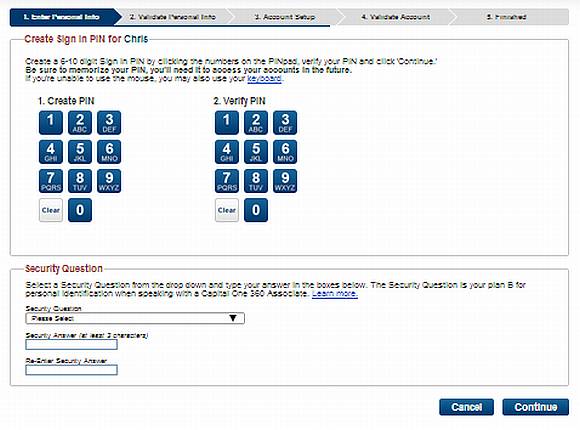 Step 6: Validate. The next page will ask you to validate your information and all you need to do is click the check boxs for the personal account disclosure and the paperless agreement.  From here just click continue to go to the next page.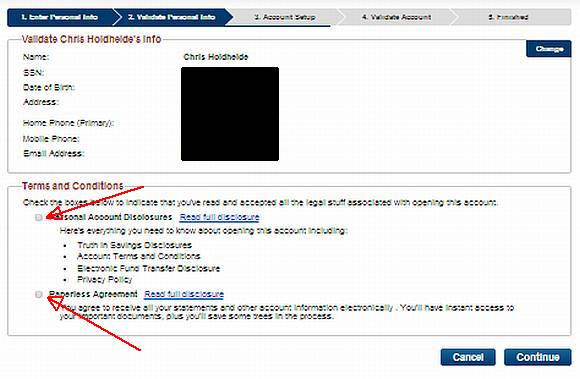 Step 7: Add Funding Details.  On this page you will need to fund your account.  In order to do this you will need a checking account prior to setting this up.  To start simply decide how much you want to put into this account upfront, and then fill in the rest of your checking account details. Then click continue to go to the next page.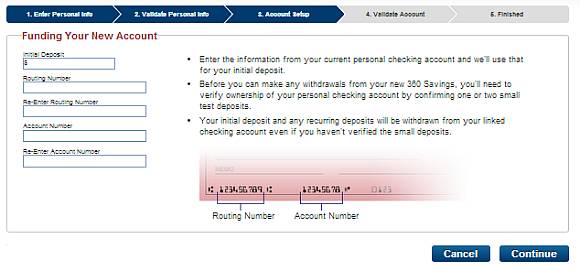 Step 8: Validate And Set Up Automatic Savings Plan.  Once you've put in your account details the next step is to set up your automatic savings plan.  In my case I chose to save $20 a week.  However you can set this up anyway that works best for you.  For example, if monthly or biweekly works better for you than do it that way. I'm just showing you the way I prefer to do it.  Once you've set this up click continue to go to the next page.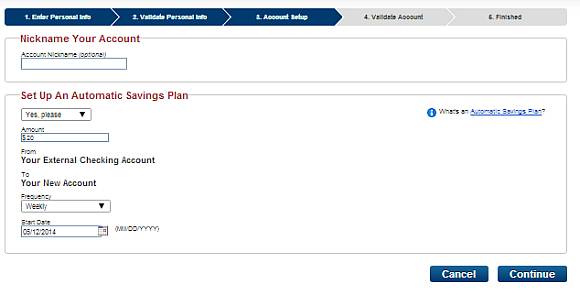 Step 9: Validate and Create Your Account.  The final step is to review your information and click create account.  This will set up your account but you will still need to validate it.  To do this Capital One will deposit two small amounts into your checking account a few business days after the account has been set up.   Typically it will only be a few cents but all you have to do is type the exact numbers in the provide places to validate that you own the checking account.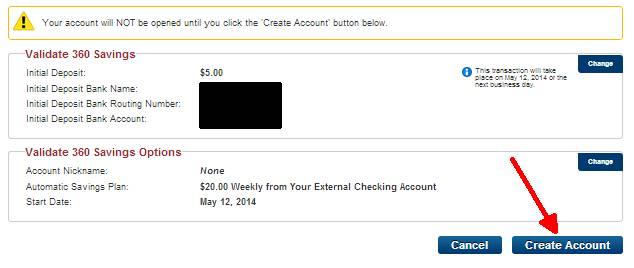 Once your automatic savings plan is up and running you should see a page like the one you have below.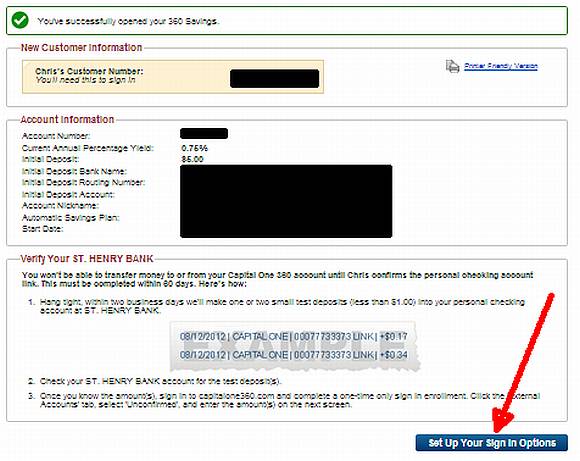 From here you will want to take note of your account number as this will be very important info to keep on had so you can access your account whenever you need to.  The final thing you need to do at this point is set up your sign in options since you are a new customer.
Call To Action
At this point if you haven't set up your automatic savings plan it's time to take action and do it now.
Click this link to set up your 360 Savings Now. 
Finally, if you have any questions about setting up your automatic emergency fund or you are just not sure about something just leave me a comment below and I would be glad to help you out.