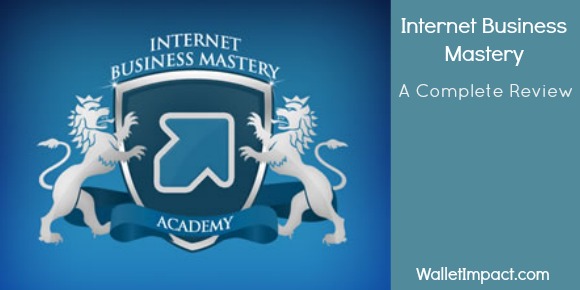 Starting your own online business can be both exciting and a bit scary all at the same time.  I know this first hand when I started my first website back in August of 2008.
When I was first getting started I learned everything the hard way and then over time I learned that it's best to learn from those who've come before you and since then I've gone through seven courses. The most recent of them being the Internet Business Mastery Academy.
I'm still working through a portion of this course but I thought I would share my full review on this great course covering what I liked, disliked, and everything else in between.
More importantly I'll also give you what I didn't like about the course as well and I'll wrap it up with who I feel is the  best fit for the product and how much this course cost.
So if starting an online business is something you want  to do to earn extra income then you will definitely want to read this review.
An Overview Of The Course
To start this entire course is broken down into 3 major sections.
The Freedom Business Blueprint
I will be covering each of these in depth below and on top of that I have included a video that gives a brief look at exactly what this course looks like when your on the inside, so make sure you check that out as well below.
The Freedom Formula.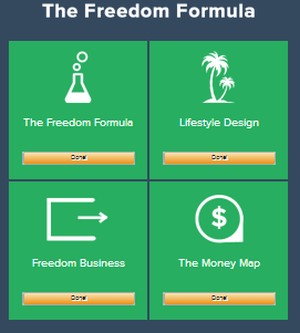 The first place you will start with this course is with the freedom formula. This section of the course is broken down into 4 parts.
The main goal of this section is to help you design the kind of lifestyle you would like to have.  In fact the first thing this course address is your fears, because believe it or not fear is going to be the thing that will stop you from achieving your success and if you don't address that right at the beginning it could come back to haunt you.
From there the course goes into lifestyle design and ask you the main question, how would you like to live your life?  Where would you like to live, what would you like to do, and who would you like to associate with?
These questions are so vital when getting started because if you don't know these things upfront how will we know what we really want to achieve.  Knowing that upfront gives you direction.
From there the course goes into explaining how your freedom business will work by explaining something called the value cycle.  This part of the course was my AH HAH moment where I realize how money is really made on the internet.
The Freedom Formula Blueprint.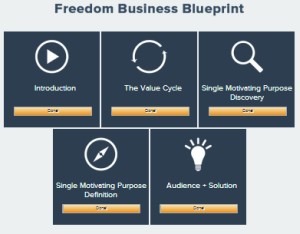 Once you've completed section 1 you will move on into section 2 the freedom formula blueprint which consist of 5 sections. The main goal of this section is to help you discover your single motivating purpose and fine that audience you want to serve and help.
The first part of this course is to learn more about the value cycle and how it works.  From there you will work on discovering your single motivating purpose.
This is a key part to running your online business because your single motivating purpose defines exactly what fulfills you and gives you purpose in your life.
Knowing what motivates you gives you a huge advantage over other online marketers because it allows you the ability to focus your efforts on what you like and make a living doing what you like.
Finally, in the last section you'll start to work towards discovering the audience and solution you want to work towards.
The Academy 101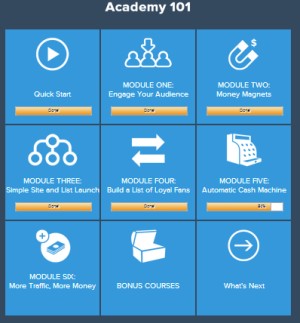 The final section of this course is the Academy 101 which consist of 6 modules all together.  The main goal of this section is to launch your freedom business and start earning the income you deserve.
Module 1 is to start engaging your audience and before you start your site  the best way to do this is with Twitter.  This section shows you how to start engaging your and building your audience.
Module 2 you will start to write your sites first content from your about page to your first blog post.  This section also shows you how to as start promoting products and services via Twitter and possibly earn your first dollar.
Module 3 is to launch your site.  This is probably the most exciting part of the course because this is were you get to see all of your hard work take shape with your brand new website.
Module 4 is to launch your email list.  Building an email list is one of the most important parts to your websites.  It allows you to communicate with your audience and get direct access to them through their email inbox.
Module 5 shows you how to set up your autoresponder series.  Your autoresponder does a lot of the heavy lifting for you sending out emails to your audience automatically.
Module 6 shows you how to get more traffic using paid traffic methods such as Facebook.  This section will show you how to trade $1 to get $2 back and take your business to a whole new level.
What I Liked
Now that I've done a complete overview of the whole course I want to cover a few things that I really liked about this course and in the next section I'm going to cover a few things I didn't like.
Multiple Formats. The first thing I liked with this course was the ability to consume it in multiple ways from audio, to video, or even being able to download all the worksheets so you can work offline.  I personally like being able to download the audio so I can listen to the current modules info that I'm in and then work on the rest of it later on when I have time.
No Recurring Fee. Second, this course is not one of those courses that has that consistent recurring fee all the time.  This is probably one of the most annoying things I find with most other courses that this one doesn't do.  Instead you can choose to pay a one time for or if you would like to break things up you can do a four payment option which is what I did.
Step By Step.  Next, this entire course is designed to be completely step by step.  The nice part about this is that it never leaves you guessing what you need to do next which I've found to be a big problem with other courses I've been in.
Address Important Factors.  One of the biggest things I liked about this course is that they didn't start the same way most other courses do.  For example in the beginning of the course you started with dealing with your fears and then moved on to things like lifestyle design, and then when you got to the academy 101 one you started defining your audience on Twitter.  In most other course they would have had you pick your niche and start building your site.  Rather this course does a great job of laying the ground work first.
Shows You Your Progress.  Finally, this course also does a great job of showing your progress and exactly where you are at, at any given time.
What I Didn't Like
 Time Consuming.  One thing I've learned about this course is that you really need to be dedicated and put the time in.  In my case I was putting in at least an hour a day or more.  I recommend having this much time or more to work on your business to get it off the ground.
Some Smaller Cost Involved.  To boot their are also some smaller cost involved that you will have to deal with at some point.  For example in the freedom business blueprint I had to pay $10 to take the StrengthFinders test.  On top of that you will also have to buy a domain name, hosting, and sign up for an email solution.  These cost can add up but they are what you need to get your business up and running.
Who This Course Is For
Now that I've covered the good and the bad you may be wondering if you might be the right fit for the Internet Business Mastery Academy.  So below are a few types of people who I feel fit best for this course.
Beginners.  If you are brand new to starting an online business this is a great place to get started.  Don't like I did when I got started and think you can learn all this stuff online for free because it will take you forever.  This course will fast track you to success a lot faster.
Struggling To Succeed.  Secondly if you are someone who is struggling to succeed at online marketing this can also be a great place to get you back on track.  This is the primary reason I joined this course so I could improve my online business.
To Improve Your Finances and Escape The Financial Dread.  Finally, if you are someone who wants to escape the financial dread and do more with your life rather than live paycheck to paycheck then this is a great way to do it.  If you read my about page I've earned over $30,000 online so far and it's been great in helping my improve my finances.
How Much Does The Internet Business Mastery Academy Cost
Finally, the last and most important question you might be wondering is, how much does the Internet Business Mastery Academy cost?  Below is a cost breakdown of the two payment options.
$497  One Time Payment.  If you want to save $91 you can pay a one time fee.
Four Monthly Payments of $147.  I chose this option even though it cost more but I was able spread the cost out over four months.
Finally, I should also mention that their is a 90 day money back guarantee that if you do not like this course for whatever reason that you can cancel it and get a full refund of your money. So what are you waiting for…