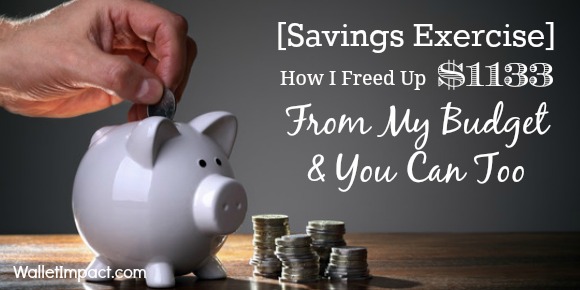 How much do you save every month?
After getting annihilated the last two months on my spending I decided enough is enough.
Honestly I should really be saving a lot more than I really am.  The question is how much can I really save from my existing income in one month.
The answer might actually surprise you as it did me.  In fact I am going to show you exactly what I did to free up $1133 from my current budget below.
However, I want to challenge you to take this exercise as well.  Doing this little exercise will prove that you can save more than you think with your current income.
Also after you get done I'd like to hear how much you were able to free up from your budget.  So leave your comment and thoughts below.  I'm sure it will make for a great discussion.
The Savings Exercise
Step 1: Get a few things together.
Before we get started you will need a pencil, a clean sheet of paper, and your budget which could be a spreadsheet on your computer, a program like Mint.com, or even just something written down on a sheet of paper.
Gather those up now and move on to the next step and if you don't have a budget you can set one up on Mint.com for free right here.
Step 2:  Ask yourself this one simple question.
What Did I Buy Last Month That I Don't Need To Buy Next Month?
The reason this question is so important is because it will help you identify the things that you will not necessarily need the next month.  On top of that it will also help you realize how much you can really free up in your budget every month.
From here write down all the things you will not buy in your next months budget that you bought in last months budget.  Below is a list of things I came up with that I will not buy in my July budget that I bought in my June budget.
Newspaper Subscription – $38
Gifts – $144
Doctor – $168
Web Business $147
Dentist – $220
Home Supplies – $416
 Step 3:  Add Up These Expenses
Finally, the last step is to add up these expenses.  In my case this adds up to $1133 in expenses that I could save in the month of July because I won't have another dentist bills, doctor bills, or have to spend any money on some extra home supply stuff.
Now this doesn't go to say that I won't have any miscellaneous expenses for the month of July because they will come up.  However even if I were to save just half of this money ($566) it would be a huge help to loading up my emergency fund and saving more money in the end.
Take The Savings Exercise
I know this is a bit of a shorter post this week but I think it it's a very powerful one.  Looking at your finances in a different light can sometimes help you spot big ways to improve your finances.
In my case I could save $1133 in a month, all by asking one very simple question.
So how much could you free up in your budget next month?  Share your thoughts in the comments below.