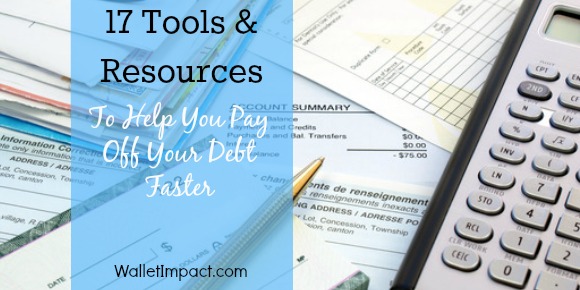 Are you having problems dealing with your debt?  Does it loom over your finances like a dark cloud?
I've dealt with some tough debt situations myself and I know the feeling.  From the financial dread sleeping in bed at night to figuring out ways to make ends meet at the end the month, debt can consume your life in almost every way.
It can take time away from your family, cause you to make poor financial decisions, and most of all cause you to miss out on all the great opportunities out there.
So in this article I'm going to share my top 17 tools and resources that you can  use to help pay off my debt faster so that you can  live the life for which you was created for, and not having someone else control your life.
#1 Free Debt Reduction Spreadsheet
If you like using Exel then you are going to love this tool.  The debt reduction spreadsheet is an excel program that shows you how to pay off your debts the best way and pay less on interest.  It doesn't matter if you are up to your eyeballs in debt or not this program will show you exactly how to pay off your debts.
To get started you just have to input your debts, current interest rate, and the minimum payment.  Once you have all the info added the spreadsheet will tell you exactly how long it will take to pay off your debt and even the exact day you will be debt free.
You can get the free debt reduction spreadsheet by clicking here.
#2 73 Great Debt Elimination Tips
If you're looking for interesting ways to eliminate debt and save more money this article by Leo Babauta from Zen Habits gives you 73 ideas and tips. Everything from the basics like cutting up your credit cards to starting a garden.
I also found article good for inspiration as well. If you are looking to get out of debt and just don' t know any better ways to get debt free I'm sure you'll find an idea or two in this post.  You can check the article out here.
#3 Debt Tsunami: The Ultimate Method To Pay Off Debt
In this great article by Adam Baker from Man vs Debt he talks about a method he uses to pay off debt called the Debt Tsunami.  To be quite honest I've never heard of this particular method that Adam uses until this article.
Basically, the Debt Tsunami is a combination of the Debt Snowball and The Debt Avalanche Plan.  So if this is a method you would like to explore to pay off your debt you will definitely want to give this article a read and you can do that by clicking here.
#4  How The Debt Snowball Method Works
If you're new to the idea of how to pay off your debt this is a great article to read by Dave Ramsey, who is probably the leading expert on paying off debt.  In this article he talks about how the debt snowball method works and how to apply it.
With the debt snowball plan it shows how to line up your debts in the proper order to pay them off by starting with your lowest balance debt first.  From here the articles goes into more detail why you want to do this and how it will make a significant difference with your finances.
You can check out the article here.
#5 Mint.com Debt Tracking
If you use Mint.com to track your budget you might now how great it is but did you know that it can also help you pay off your debts as well.  Once you sign up for a free Mint account you can set a goal to pay off a specific debt.
What's great about this is that you hook all of your accounts up to Mint and they will take care of all the tracking for you so won't have to deal with spreadsheets and manually looking after your financial situation because they will do it for you.
You can learn more about Mint here.
#6 23 Powerful Tips And Tools To Eliminate Debt
Another article I found some great info on from was an article written by Rob Berger from the Dough Roller called 23 Powerful Tips And Tools To Eliminate Debt.  This articles gives a lot of great info about different things you can do pay down debt and some pitfalls you should avoid.
I especially like tip #20 on debt consolidation which you should avoid.  Their are some pretty big dark sides to debt that can really mess up your finances worse than they really might be, and that's one thing I like about this post.  To read all the other tips you can read this article here.
#7 Ready For Zero
Another program I've found to be very helpful for many people to pay off you their debts is Ready For Zero.  I've never personally used this program but I've found their approach to be top notch.
All you have to do is link all of your debts in your Ready for Zero account or input them manually and they will structure a debt plan for you that will help you pay off your debt fast.
They also have an app that you can get to help you keep track right from your smart phone and for an extra fee you can even make all of your payments right from their site as well.
You can learn more about Ready For Zero here.
#8 Debt Avalanche Vs. Debt Snowball
A big dispute that's been going on over the years when it comes to paying of debt is the debt avalanche versus the debt snowball plan. If you've never heard of either of these plans let me explain.
The debt snowball plan works by paying off your lowest balance debt first all the way up to your highest debt. The benefit behind this is that you'll pay off your debts faster and achieve a win faster.
On the other hand you have the debt avalanche which works by paying off your debts with the highest interest rate first  The benefit behind this plan is that you will save a lot more on interest payments.
So if you're stuck as to which plan you should use check out this article by Ready For Zero.
#9 How To Get Out Of Debt, Stay Out Of Debt, And Live Prosperously
Sometimes a blog post or even a tool is not what you need to get out of debt but rather entire change in the perspective in the way you see money altogether.  That's what Jerrold Mundis does in his book How To Get Out Of Debt, Stay Out Of Debt, And Live Prosperously.
Now I should mention up front that I have not read this book yet but it has been recommended to my by several people and the fact that it gets 94 our of 126 five star reviews tells me this is a must read book.
I plan to read the book at some point and when I do I'll definitely be giving my review on it.
Click here to get How To Get Out Of Debt, Stay Out Of Debt, And Live Prosperously. 
#10 The 12 Step Debt Program by Zen Habits
One thing you may have noticed in this list is that I'm not sharing just one way to pay off debt but rather several ways to pay off debt.  The reason I've found over the years is that their is no one programs that fits all.
The reason for this is because we all have different financial situations we are dealing with and their is no way I can say that this plan or that plan works for everyone because it just doesn't.
The 12 Step Debt Program by Zen Habits is just that, it's more of a minimalist approach to paying off your debt and getting back on track with your finances.
You can check out the 12 Step Plan here.
#11 How to Get Through Tough Financial Times Without Selling Your Soul
This next article is one that I personally wrote a while back.  We can have the best plan in place to tackle our finances and pay off our debts but their will be times when things get tough and that's exactly what I cover in this article.
I've personally faced a lot of tough times over the years and over time I've found my own way dealing with it.  In the article I share 5 things I do to stay on track, stay focused, all without having to sell my soul.
You can check out the article here.
#12  The Total Money Makeover
If I had to choose one person over the years that's helped more people gain control of their lives and pay off more debt it Dave Ramsey and his book The Total Money Makeover.
I read this book back several years ago and Dave plan gives a complete step by step approach to not only paying off your debt but also getting the rest of your financial situation in order as well.
He covers everything from building up your emergency fund, paying off your credit card debt, to saving for your kids college education, to saving for your own retirement.
You can learn more about The Total Money Makeover here.
#13  The Total Money Makeover Tool
Along with the book Dave also has  a The Money Makeover Tool that allows you to put together your entire plan in one place.  Simply add your debts and the program will put your plan together for you.
However I should mention this plan uses the debt snowball method to pay down your debt.  So if you are looking to pay off your debt this way then check out this free tool here
#14 6 Risky Ways To Pay Off Credit Card Debt
In this article I've covered a lot of ways to pay down your debt with various tips and tools but did you know that their are ways you should not pay off your debt.  In this article BankRate.com does a great job of showing you how what not to do.
One I can personally attest to is using my home equity to pay off my debts. This idea sounds great because you can get a lower fixed interest rate which you can also deduct on your taxes but the problem is it also opens the door back up to loading up your credit cards again.
You can read the article here.
#15 Beating The Broke Mindset
Another area of debt we seem to fall into is developing a bad mindset.  In this article by Frugal Farmer it covers 3 of the top mindset pitfalls that you may run into trying to pay off your debt.
I've personally fallen for number 3 on this list and I've found it to be a tough thing to beat.  I've found that not everyone will our best interest at heart and this is why building a strong mindset against the broke mindset is very important.
So if this is an issue you've run into this may be an article you'll want to read, click here to read the article.
#16 How I Paid Off $6500 Of Credit Card Debt Off In 1 Month
Number sixteen on the list is a method I've actually used a few time to pay off credit card debt and I've found it to work very well for me.  In fact a few years ago I was able to pay off $6500 of credit card debt using this method.
To be a little more exact I'll show you how I used my life insurance policy to do it as well to pay off this debt and do it all in 1 month.  To learn more how this method works you can check it out here
.
#17 Debt Free In 18 Months Free eCourse
Finally the last tool I have for you is a free course by Deacon Hayes from Well Kept Wallet.  In this course Deacon walks you through an 18 month course to pay off all of your debt.
One reason I like this plan is because Deacon did this very plan himself.  He was $52,000 in debt when he decided to take charge of his situation and paid in all off over the next 18 months.
On top of that Deacons course doesn't just show you how to pay off your debt he also shows you how to earn some extra income to speed the process up.
So if you are looking for a program that walks you through the process then sign up for Deacons course here.
Is Their Any Tools Or Resources You Use
To wrap up this list up is their any tools or resources or tools that you prefer or use.  Feel free to share in the comments section below.